I recently moved to a new pad right in the heart of Hollywood, and yesterday I finally used my new location to its full advantage. I live within walking distance to several movie theaters – and yesterday I set out to go to one, and ending up going to three. 
It was my first time at the

Arena Cinelounge

on Sunset and although I was a little nervous at first about a cinema in a office building, it turned out to be a wonderful place. The staff was friendly and knowledgeable and the theater itself is spacious, with comfortable seats and plenty of leg room. I went to see an incredible documentary

Dawson City: Frozen Time

.

Being the cinephile and lover of film history that I am, this film was absolute magic to me. Bill Morrison has crafted a love letter to cinema and film itself, done with next to no dialogue and constructed in an experimental fashion.
Canada's Dawson City was a mining town that experienced brief fame from a gold rush in the 1890's, and became a place that launched not only several movie chain moguls, but also preserved much of film's history itself. Being the end of the line for film prints making their way north, Dawson City ended up inadvertently collecting thousands of film prints, since the distributors & studios didn't want to pay to ship all of the prints back. Although many of the prints were destroyed, some were preserved underneath an ice rink for decades, and discovered in the 1970's. Many of these were the only living print in existence for hundreds of lost silent films.
You get to see hundreds of these films in Dawson City: Frozen Time, and they are the definition of cinematic magic. The distortion and damage done to many of these films from the years of neglect become part of the film and adds to the beauty of it. The music is stellar as well, incorporating the sound of the damaged film running through a projector as part of the score in places.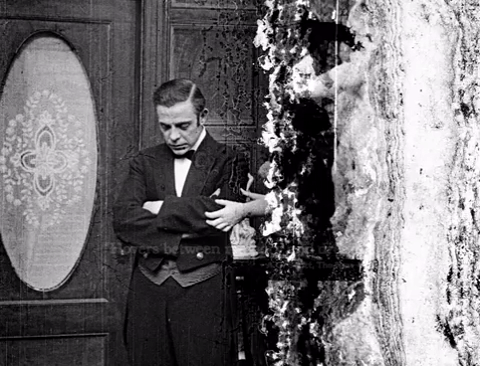 And amongst these findings were several newsreels – documentary footage taken in the 1890's of prospectors rushing to Dawson City to stake their claim. Watching these men walk through the streets of Dawson City in 1897, smiling and looking curiously at the camera, is the only kind of time travel I will ever know.
I get to see how the world looked through their eyes at that captured moment, and that feeling, more than anything, is what I love about watching old films. I am traveling back to see people who lived and breathed and hoped just like I do. They worked hard to get to a remote city in Canada to possibly find some gold. Many did. But not one of them knew that a few seconds of  their lives would be forever immortalized and would, over a hundred years later, be watched by a girl in Hollywood, California, wearing a Fight Club T Shirt. And yet, that happened. And for a few moments those men were alive again.
 
This film gave me everything I want a film to give me – an opportunity to see the beauty of the world, the wonder of it, and hope for mankind. That through art, we can show our true selves to each other – even if only for a few hours. It's the feeling I chase when I go to films, like a junkie craving my next fix. Often the film disappoints, and I'm then ravenous to find it again. Someone asked me recently to describe my perfect moment of joy, and I said the moment in a cinema right before the film begins. The moment when there is absolute quiet, when no one is talking or breathing, and the possibility of the film is infinite. It could be as great as you imagine it in your own version in your head, or lacking sadly. But the times when the film is better than you could begin to imagine it, when the audience is taken along and the feeling of enjoyment in the theater is palpable – this is what it all boils down to as why I adore film so much. 
And that's why I saw IT twice this weekend.
I read It when I was in junior high – I was the girl on the bus listening to mix tapes on her walkman and reading Stephen King novels. As such, I have read a lot of his books, and I honestly think It is his best novel. His writing is at its absolute peak, the characters are vivid and full, and the depiction of horror is raw, evil and at its most terrifying. I forced the book onto several friends in junior high and high school, and one friend a

nd I called each other Eddie (me) and Bevvie (her) after our favorite characters in the book, for the entirety of high school. I've read It dozens of times.
I was very dubious of this film, as I am of all remakes  – especially horror ones. The stupendous performances Tim Curry and Dennis Christopher in the 1990 version make it wonderful,  but I did find that version a bit…lacking. So I was willing to give this one a go. And I loved it.
The film is warm and fun, scary and horrifying, with terrific performances from all of the kids. Its hard to construct a large central cast in which all of the acting is on an equal level, but they've done it here. I felt each one really captured the character from the pages of the book, and although a great amount of trimming and a fair amount of changes were done to the novel, I didn't mind the choices they made. The film is obviously made with a lot of love.
No one can EVER top a Tim Curry performance, natch, but I really really enjoyed Bill Skarsgard's  performance as Pennywise. Although gruesome and intense, I found the character so captivating that there was something almost slightly appealing about him at times, which made him even more creepy. I only wish there was more of him in the film! The special effects were spooky and fun, and a good time was had by all.

There are so few modern horror movies that I want to see that I am now rarely in an excited opening night audience, but circumstances made it so that I was a the 9:30pm opening night show, Friday night. I'm such a horror hound that I don't scare easily anymore, but I love seeing horror movies with an audience so much because it heightens your experience a hundred times.
The audience fucking loved It. They were squirming, gasping, giggling nervously from fear after every big scare. The girl next to me hid her face every time Pennywise came on screen for the entire film. She was fucking petrified.
And being part of the to audience go through all of that – that indescribable feeling of a room full of strangers as one is the most joyful thing I know. But it is indescribable. How do I, a human with only five supposed senses, feel a room full of people? How can the air seem thicker in the moments when the monster is on screen? How can it feel suddenly lighter when the danger has passed and everyone breathes normally and giggles at how frightened they were just moments ago? I don't believe in god. I don't believe in magic – but these moments are ones that make me think there may be something that really does connect people on some level. It gives me hope.
So I went to go see It again on Saturday at the Dome in Hollywood – because I wanted to experience it again – with even more people this time. The Dome seats over 800, and while not to capacity, the theater was quite full. And it was the same as the night before – the screams and gasps, the nervous laughter, with people hiding behind their eyes and squeezing onto their neighbor. Amazing.
When people tell me they don't like being scared, when they can't watch a horror movie in the theater because it freaks them out so much, I understand.  But I secretly think they are missing out on a wonderful human experience. To be with hundreds of strangers and feel the fear in the room, then the explosive release when the villain has been bested, when everyone feels safe because they are all together, watching these things as one, and don't we know in the end everyone will be all right? That the credits will roll, and the rush you have felt for the last 2 hours will be buzzing in your system while your heart beat slows, and the terror is over. You can walk back out into the bright sunlight, and think – wasn't that a fun ride? It's the experience that It gave me twice this weekend, and I think Stephen King would be very proud because somehow I think he knows all about that feeling too.
 
Then, walking home, I stumbled upon a screening just beginning at the Egyptian Theater
 on Hollywood Boulevard – The Witch Who Came From the Sea. It is an exploitation movie from 1976 by director Matt Cimber, starring Millie Perkins – both of whom were there for a Q & A session afterward. The film (on glorious, crackling 35mm) was quirky and odd, with a dreamlike quality unlike most of its grindhouse ilk. Here I got to experience the audience in a difference way. There was a back story of the heroine where she was sexually abused by her father – with some uncomfortable flashback scenes. And such a different feeling when the entire audience is ill at ease, shifting in their seats and averting their eyes to avoid the images on the screen – not out of fear, but out of shame and embarrassment. That feeling, amplified by dozens of people is such an infrequent, uncomfortable feeling that I can see a certain beauty in it.
I know of several directors whose trademark seems to be exploiting this feeling – making the audience feel shame or humiliation or embarrassment. I don't dig it. It doesn't float my boat (down into the drain with Pennywise). The Witch Who Came From the Sea (great title) was a bizarre film that I had never heard of, but that I am glad that I saw.
I often wonder what it is like for other people to go to the movies. I know everyone doesn't have the nearly holy experience it can be for me. I think back to going with friends to see movies completely indiscriminately in junior high, often seeing terrible films just because that's what the local multiplex is playing, and I can't really remember any of the experiences at all.
I certainly didn't watch the film that way I do now – after years of studying film at university, which completely changed the way I saw movies, and after the thousands of films I have seen since then. I maybe knew who the actors were (and the boys name, definitely, if he was cute) but that was about it. Didn't know many directors, didn't think about all of the craft and artistry and sweat and blood it takes to get every single film on that screen. How many people work behind the scenes on all of these films, in pre and post production, on the set, distributing it, booking it, projecting it, all the way to your screen.
I do wish sometimes I could time travel back to that junior high me time frame and see films the way she would have. And sometimes I think to myself  I haven't learned much from my time living in Hollywood. Then I look at the way I see movies now and that the cinema going experience delights me in a way no other media can.  That it is in my bone marrow.  I fucking love cinema.
Three different cinemas, three completely different film experiences, all within doorsteps to my house. It may be cramped, and without air conditioning, but I suppose this new place might have some perks after all.